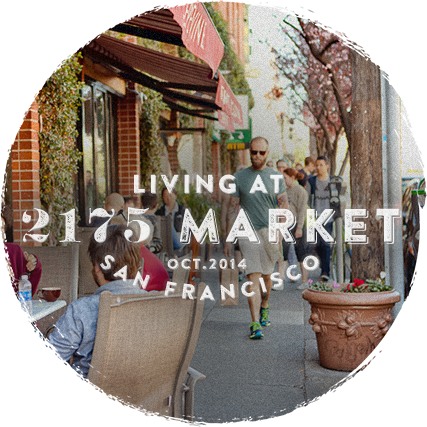 living in the city
It's not just another day in the City. No, it's your day, and it's going to be a good one. Up early, refreshed and showered, you wander downstairs through the art-filled lobby on your way to the bike room pedal off to work or your next adventure.

The city and neighborhood are yours as you navigate the streets. It doesn't matter what you want or need, it's all right here - dinner, drinks, entertainment - whatever, whenever, it's all at your disposal.

Located in the vibrant Upper Market neighborhood of San Francisco, 2175 Market brings living, gathering, and creative spaces together in one very unique community. Working closely with local residents and organizations, we've created a new concept in residential living that adds to the vibrancy of the neighborhood.

2175 Market offers a collection of apartment homes featuring well-appointed one- and two-bedroom layouts with open floor plans, generous windows and the latest appliances and fixtures. It's designed to meet LEED Platinum Certification while featuring the natural materials and high-quality finishes that are sure to appeal to your sophisticated yet relaxed lifestyle.

In keeping with our desire to help maintain the character, culture and diversity of the City, we are proud to offer a limited number of apartments for income qualified residents. At Forest City, we believe places to live should reflect the eclectic City we all love.