Design
Home Sweet Home
Modern comforts with natural elements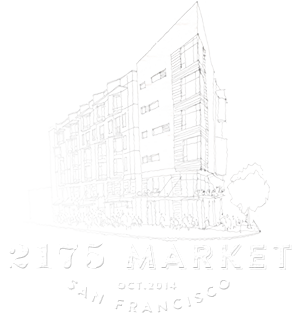 At 2175 Market the materials, colors and finishes in each apartment evoke feelings of warmth, comfort and simplicity. The design mixes modern features with natural materials to bring texture and variety to the residences and shared spaces. Copper penny flooring in the elevator, natural wood, vintage glass, finished concrete and gun metal steel in the lobby create a complimentary warm and inviting entrance to your well-appointed and stylish new home.

Each apartment incorporates high-quality appliances, fixtures and finishes such as hand-crafted, locally-made Heath Ceramics tile in the kitchens, stainless steel appliances and Ceasarstone countertops that reflect the building design and celebrate local craftsman.
The work of local artists and craftsmen are featured throughout 2175 Market both as displayed works and incorporated into the design of the building. Among the artists that residents enjoy on a daily basis are: Wendy MacNaughton - illustrative art for the elevator; Shae Rocco - original art for each floor; Lisa Congdon - abstract art for lobby; Jeremy Novy - graffiti art in the market; Heath Ceramic - custom backsplashes in apartments.